Artificial Plant FAQs: Answers to Common Questions
FAQs about Artificial Plants by Pacific Silkscapes
FAQs about artificial plants address the most common questions about fake plants. Our crew updates and adds to this list to assist you in finding the ideal artificial plant for your home or office. Before you go out searching for an artificial tree, review this list of FAQs. For more information on artificial plants, visit our resources page.
Visit our Pacific Silkscapes Pinterest page for more ideas. We will custom-build almost anything you find on our Pinterest boards. Call us with your questions.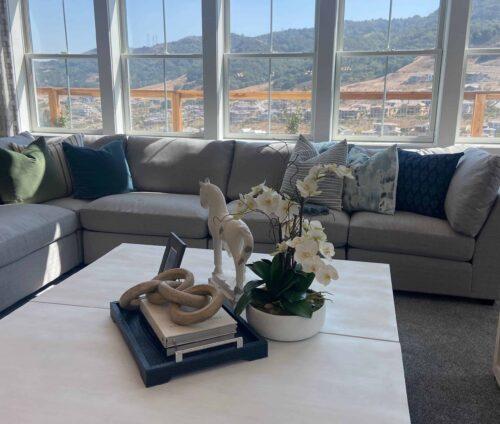 Questions and Answers:
Are Artificial Plants Still in Style?

Since the early days of silk plants, technology has grown leaps and bounds in plant production. Often, molds made from natural plants are the starting point for creating today's realistic-looking plants.  These new artificial plants are in style.

Another reason fake plants tend to look so real is that today's most popular plants seem to actually look fake. Take succulents, for example. The real ones even look like they are made of plastic.  Therefore, to find the best artificial plants, look for ones inspired by plants that actually look fake themselves.

Some of our favorite plants to emulate are aloe, fiddle leaf figs, air plants, snake plants, banana trees, and birds of paradise. To help you choose the best options, pull up photos of the real plant to compare the look.
How do I prepare before I purchase my perfect artificial tree?

1. Know what foliage I want.  Check out this blog.  Use larger leaves for a contemporary look.
2. Measure the height of the room and determine how high a tree you want.
3. Determine the width you need.
4. Based on the decor, what style of planter do you want?
5. Do you want an airy tree or a fuller tree?
6. What colors would you like for your planter based on your decor?
7. Are you looking to set a theme?  Check out this article.
How do I know what size planter I need for my new artificial tree?

Decorative planters must be able to securely retain the silk trees without tipping over.  A larger planter works well as a foundation for the plant.

Smaller decorative planters look crowded and can detract from the realistic appearance of your silk plant.  Trees that are planted in a planter that is too small can become unstable.
Using an oversized decorative planter is never a bad idea as it looks much more proportionate and convincing of it is a real plant.  Oversized planters provide a secure base for the silk plant or tree which will allow you to enjoy its beauty for years.

General guidelines for common plants and trees are shown below:
TREE/PLANT LENGTH (feet) PLANTER DIAMETER (inches)
3 to 4 feet use 12 inches
4 to 5 feet use 13 to 14 inches
6 to 7 feet use 15 to 16 inches
8 to 10 feet use 16 to 20 inches
10 to 12 feet use 24 inches

If you need further assistance, Pacific Silkscapes will be glad to answer any questions you may have.
Why choose Pacific Silkscapes for replica plants?

1. Pacific Silkscapes has been creating artificial plants, custom artificial trees, and stunning flower arrangements for over 25 years.
2. If you live in the Sacramento region (including El Dorado Hills and Roseville), Pacific Silkscapes offers free in-home consulting.  So, If you just purchased a new home, or are considering a brand new look to your present home, call for a free in-home consultation from one of our experienced floral designers.
3. If for any reason, an artificial tree does not work well with your decor, we will alter the tree or replace it with another tree.  Your satisfaction is our priority so that you can purchase worry-free.
4. We can provide a free consultation, and review photos of the area that requires plants and trees. And we partner with your interior designer/decorator on selecting the best tree and planter for your decor.
5. Our staff ensures the highest quality product that will look great and be built to last.  And, we custom paint planters to match the color scheme of the home using professional paint equipment.
What are the benefits of high-quality artificial plants?

• Artificial plants are non-toxic
• Artificial plants look realistic
• New technology artificial plants look realistic
• Artificial plants are more durable
• High-quality faux plants have built-in wires for the desired shaping
• Realistic plants are cost-effective
• Artificial plants can be quick and easy to move and place
• Replica plants have immediate decoration effects
Can you put fake plants outside?

• Yes, you can definitely use artificial plants and trees outside.  Not all fake plants and trees, however, are suitable for outdoor use. The material used to make outdoor artificial plants and trees is UV resistant to nature.  When exposed to direct sunshine, this substance keeps the foliage from losing its color.
• Pacific Silkscapes carries these outdoor products.  UV-infused artificial plants are made with a special Poly-Blend® material that has UV protection built right into the material of the plants, flowers, or trees.
• Poly-Blend® trees are, by far, the most durable and will last you the longest time without fading or becoming brittle from harsh UV rays.  Expect 5 – 10 years* of use in some of the harshest climates.
• Pacific Silkscapes can also apply UV-resistant spray to make them fade-resistant.  Our UV-treated plants get sprayed with a UV coating before leaving our warehouse. This treatment lasts 1.5 years or more* depending on the intensity of direct sunlight.

NOTE: PolyBlend® is a registered trademark of Autograph Foliages.
How do I clean an artificial plant?

In this FAQ about artificial plants, we give our recommendation on how to clean artificial plants.  Artificial plants and silk leaves are cleaned with a mild detergent diluted 2 to 1 with water after dusting using a standard feather duster. For larger floral arrangements wipe down the arrangement flower by flower and then rinse it carefully using plain water. This process will restore the original look of the design.  Design Masters' aerosol silk flower cleaner is a preferred cleaner that we use at Pacific Silkscapes.  Check out Pacific Silkscapes BLOG for more information.
Are silk flowers really made of silk?

No, today's artificial flowers use new manufacturing technology. Today's technology uses polyurethane foam instead of plastic or silk to offer a more natural look and feel, which sometimes can be mistaken as a real flower. During the manufacturing process, a mixture of polyether and polyurethane compose a lightweight foam.  This is poured into the molds to form the artificial flowers' components.
 
Various colors are injected directly into the foam. The colors are additionally sprayed onto the surfaces and heated to cure the desired colors permanently.
 
Over a decade, this new methodology has been adopted by various manufacturers to create a wide range of flower designs. Today, polyurethane flowers are referred to as "real touch", "soft touch" and "natural stem" flowers.
Visit Pacific Silkscapes to see the quality of today's newest silk flowers.

Which is the most popular artificial tree in the US?

For over 30 years, Pacific Silkscapes has been serving interior designers. We have experience in knowing what the demand for different trees is.  Our most popular artificial tree has been the artificial fiddle leaf fig tree.  Fiddle Leaf fig trees are very popular in all venues. These include residential properties, model homes, sales offices, and hospitality suites.  In 2022, olive trees are also making a comeback.
How long do outdoor artificial plants last?

The amount of time outdoor products last depends on different factors such as how much sunlight your plants are exposed to and which products you choose.

Take a look at our outdoor Polyblend® Line.  "Our Polyblend®is a secret proprietary formulation of UV Inhibitors and UV Screeners to absorb the sunlight and protect the resin. Southern regions of the U.S. such as Florida, Texas, and Arizona with the most intense exposure to direct UV rays year-round can expect up to 5 years of color consistency without any brittleness or cracking to the leaves.  Solid steel or stiff wireframing provides additional support in other harsh weathering conditions including rain, wind, or snow."  (From Autograph Foliage website)

Also, refer to our blog post "How long do outdoor silk plants last?"  Take a look at our 
blog page here.
Are artificial plants environmentally friendly?

"Artificial plants do not have as large a carbon footprint as you might assume. How is this possible? The key difference between the two is that artificial plants do not require the ongoing maintenance that their real counterparts do. Watering, fertilizing, soil replacement, and plant replacement – all these activities bring with them additional carbon emissions. And fortunately, artificial plants don't require any of them!" In addition, China manufactures artificial foliage with recycled materials whenever possible.

In addition, at Pacific Silkscapes, we recycle everything we could. We use real natural trunks for our trees and minimize the use of oil-based foam by mixing the material with recycled cardboard.

For more information on the sustainability of artificial plants, refer to this BLOG from Designer Plants in Australia.
What is the Impact of Commercial Artificial Plantscapes on Customer Experience?

Artificial plants can add a touch of nature to commercial spaces, creating a warm and welcoming atmosphere that is suitable for customers. Here are some ways in which artificial plants can enhance the customer experience in commercial spaces:

Creates a calming atmosphere: Artificial plants provide a sense of calmness in commercial spaces such as shopping malls, hotels, and restaurants. They provide a natural ambiance that helps customers relax, especially after a long day of shopping or traveling.

Enhances the appeal of the business: The addition of artificial plants to commercial spaces can help increase the aesthetic appeal of the business. This can attract customers as they feel that they are in a pleasant environment.

Reduces stress and anxiety: For customers, artificial plants provide a peaceful and relaxing environment, helping to reduce stress and anxiety. This is especially important for hotels and spas, where customers come to relax and unwind.

Brings outdoor ambiance indoors: In commercial spaces, artificial plants can create a unique atmosphere that feels like an outdoor space. This creates a sense of comfort and peacefulness, leading to a positive experience for customers.

Easy maintenance: Artificial plants require less maintenance than real plants, which means there is no need for watering or pruning. This makes them ideal for commercial spaces where minimal upkeep is required, while still providing a positive experience for customers.

Overall, adding artificial plants to commercial spaces can contribute to a positive customer experience, creating an inviting and calm environment that customers are sure to remember.
Are artificial plants, trees, and green walls SAFE for pets?
Did you know that artificial plants, trees, and green walls are SAFE for pets? Unlike real plants that can be toxic to our furry friends, artificial greenery provides a pet-friendly solution to adding greenery to your home!
Can faux green walls be customized to fit specific spaces and designs?
Yes, faux green walls can be customized to fit specific spaces and designs. These types of walls are created using artificial plants and foliage that can be arranged in various ways to create unique designs and patterns. Pacific Silkscapes specializes in creating custom faux green walls and offers a wide variety of options for customization such as size, shape, color, texture, and materials used. Whether you're looking to add some greenery to an office space or create a relaxing atmosphere in your home, there are many possibilities when it comes to customizing faux green walls.
How long do indoor artificial plants last?
Indoor artificial plants can last up to 10 years with proper maintenance and care provided they are not exposed to a lot of direct sunlight.  It is recommended that indoor plants be replaced every 7 to 10 years to keep them looking fresh and realistic. The type of material and construction plays a role. If the plants are close to windows and skylights, it is suggested a UV inhibitor be applied to improve longevity.