ARTIFICIAL TOPIARY TREES
PACIFIC SILKSCAPES CARRIES A VARIETY OF FAUX TOPIARY TREES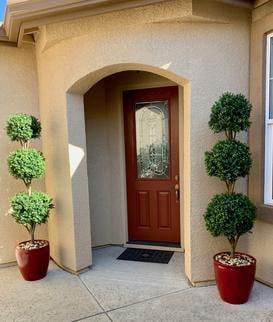 Check out Pacific Silkscape's variety of faux trees:
Pacific Silkscapes can assist you in finding the perfect fake topiary tree for your decor. You don't need to practice the ancient art of Hako Zukuri to have the perfect boxwood tree or artificial topiary tree for your home. Our fake topiary trees can be small enough for desktop décor or large enough to act as the main focus of a room. Achieve the look you want with today's wide variety of options. Just visit Pacific Silkscapes and pick out the perfect faux topiary from our showroom or catalogs.
Topiary Trees are Admired
Artificial topiary trees are a great way to add some greenery to your indoor and outdoor spaces without the hassle of maintaining real plants. They come in a variety of shapes and sizes and can be used to create a variety of different looks.
Indoor artificial topiary trees are perfect for adding some greenery to your home or office. They can be used to decorate entryways, living rooms, and even bathrooms. Some popular indoor artificial topiary trees include olive trees, boxwood trees, and cedar trees. These trees are often sold in pots or planters, making them easy to move around and rearrange as needed.
Outdoor artificial topiary trees are designed to withstand the elements and can be used to decorate patios, decks, and gardens. They are often made from UV-protected materials that won't fade or deteriorate in the sun. Some popular outdoor artificial topiary trees include boxwood trees, cypress trees, and juniper trees.
When choosing an artificial topiary tree, it's important to consider the size and shape of the tree as well as the space where it will be placed. Some topiary trees are tall and narrow, while others are short and wide. Some are shaped like balls or cones, while others are shaped like spirals or pyramids.
Overall, artificial topiary trees are a great way to add some greenery to your indoor and outdoor spaces without the hassle of maintaining real plants. They come in a variety of shapes and sizes, making it easy to find one that fits your style and space.
Artificial Topiary Trees Wholesale
If you need to purchase many trees or if you are an interior designer or reseller, ask about our special wholesale pricing.
Don't forget the planter!
Don't forget to purchase the ideal planter. Nothing beats a well-made handcrafted planter for enhancing the beauty of any room. Choosing the right planter will enhance your custom tree while also complementing your décor. Check out our BLOG post on why planters are important. Also, review some of the planters offered by Pacific Silkscapes.
Artificial Topiary Trees that Pacific Silkscapes sells: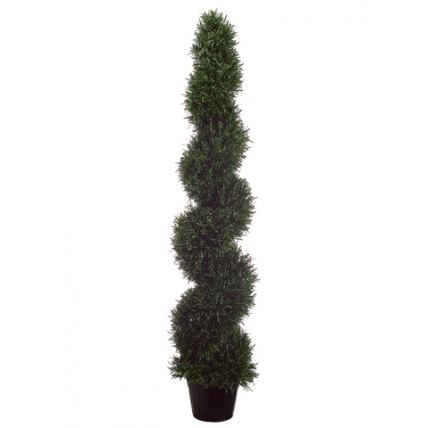 What are the benefits of artificial topiary trees?
There are quite a few benefits of having artificial topiary trees and plants in your home or office. No watering means not having to worry about drainage issues and getting water all over the place in the process. Replica topiary plants are more likely to retain a constant color and liveliness as long as they are kept out of direct sunlight.
Cleaning and care of fake topiary trees are fairly simple. Keep the leaves and stems dusted; wipe down the base with a damp cloth. Leaves can be sprayed with a homemade mild soap solution. Keeping the plant away from direct sunlight will delay fading.
Are fake plants tacky?
If you're new to the world of interior décor, a faux plant creates interest without making a statement. They're a safe way to inject a space with some liveliness. You can still enjoy the advantages of having greenery around you without any commitment.

Fake plants also aren't seen as the insincere statement they once were. Some of the best faux plants today cost $100s. There's a real art to their design and crafting. The realism brought to artificial plants comes from the hand of the designers and a market has opened up among collectors and enthusiastic gardeners who also have an eye for the not-so-real counterpart.

So all in all, are fake plants tacky – not so much anymore. They're quality-made, realistic, impressive, and an interior design must-have.  Topiary trees are among the most realistic faux plants. Many inside experts continue to note the rise in faux plant interest particularly from the younger generation. It's unlikely to stop anytime soon.