Moss Wall Art by Pacific Silkscapes
Living Wall Not Feasible? Bring Nature indoors with moss wall art.
Moss wall art can fit in any space under conditions where a green living wall isn't feasible. Pacific Silkscapes can create a custom moss wall piece for you. They are the perfect alternative when a traditional living wall isn't feasible. Our team can design a custom art piece with any kind of frame, and natural elements, and to any size to fit your budget. If you can imagine it, we can create it for you!
Preserved moss is an all-natural material that's become the "must-have" natural biophilic element in modern designs. Now, more interior designers and decorators have discovered the freedom that preserved moss walls allow when it comes to incorporating nature into an interior space. You are no longer limited by natural sunlight and costly maintenance restrictions. Looking for ideas on creating a gallery wall? Check out this guide.
Moss wall art has gained popularity for several reasons. Firstly, it adds a natural touch to indoor spaces which is appealing to many individuals, especially those who may not have access to outdoor spaces. Secondly, it requires very low maintenance compared to traditional indoor plants. Mosses are able to thrive in low light and don't require watering or soil. This makes it a convenient choice for those who are busy or may not have green thumbs.
Moreover, wall art is also considered a sustainable interior design option as it is made using natural materials that are completely biodegradable. Additionally, the art can also help purify the air by absorbing pollutants, making it a health-conscious decor element.
Lastly, this unique art is versatile and can be customized to fit any space, ranging from home interiors, office spaces, retail displays, and even outdoor installations. This flexibility allows for endless design possibilities and has contributed to its increasing demand and popularity.
In addition to Moss Wall Art, please check out our Artificial Green and Moss Walls.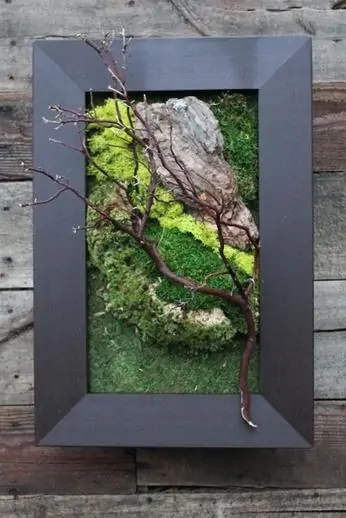 More Ideas from Pinterest:
Advantages of Moss Wall Art over traditional living walls
1. Preserved moss art can be installed nearly anywhere at less cost, with zero maintenance.
2. Our wall art offers opportunities for creativity beyond what one can do with traditional living walls.
3. Moss is a natural and effective method of sound absorption in open spaces.
FAQs for Preserved Wall Art
Is the preserved moss really made of the stuff that grows on rocks?
Yes! They are made from a plant we called reindeer or caribou moss. 
Are preserved moss artwork alive like living walls?
Pacific Silkscapes' wall art pieces are not living like our traditional living walls. The moss was once a living, growing plant that has been preserved to create the beautiful artwork we use to create a custom-preserved moss wall.

How often do preserved moss walls need to be watered?
No plumbing or irrigation is needed at all.
Do moss walls need light?
No. As a matter of fact, sunlight will fade them. They are ideal for dark spaces.
Contact Pacific Silkscapes to see if we can custom-design one for your office or home!