FLOOR PLANTS
ARTIFICIAL FLOOR AND TABLETOP PLANTS
Faux floor plants have become increasingly popular for a variety of reasons. One of the main reasons is that they provide a low-maintenance way to bring greenery into indoor spaces. Unlike real plants, faux floor plants require no watering, pruning, or fertilizing, making them an ideal solution for people who don't have the time or skill to care for live plants.
Additionally, faux floor plants come in a wide range of styles, sizes, and varieties to suit different decor styles, from bohemian to modern to traditional. They also offer the opportunity to add a touch of nature to spaces that may not be suited for live plants, such as offices with limited natural light or homes with pets that may be prone to chewing on foliage.
Faux floor plants are also a durable and cost-effective alternative to live plants. They don't die or wilt, so they can be used for years without needing to be replaced. Additionally, they are typically less expensive than live plants of the same size and variety, making them an affordable way to add visual interest and character to indoor spaces.
Faux plants are very popular in interior design. As you might notice, they appear in just about every post on interior design accounts on Instagram, Pinterest, and Facebook. No matter if it's decorating a backyard deck, a balcony, a front step, an entranceway, a kitchen, a living room, a guest bedroom, a bathroom, or a master bedroom, any of these situations can benefit from the placement of an artificial plant.
Examples of plants at Pacific Silkscapes: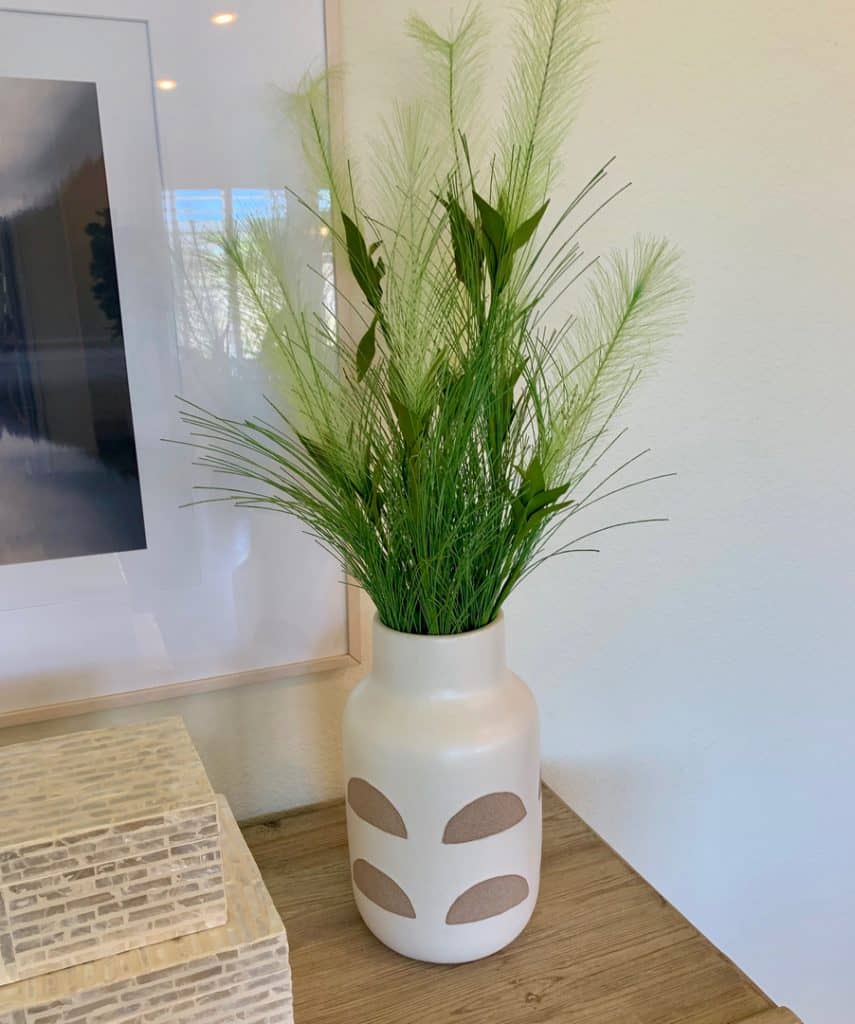 Examples of faux floor plants on Pinterest:
Why use faux plants?
Expertly crafted from the finest materials, our realistic fake floor plants express a unique artistic vision inspired by nature. Our creations are every bit as pretty as fresh plants. And they'll brighten your space for a lot longer – no green thumb required.
Like any living plant, faux plants can work wonders for any décor. No one knows the difference once displayed on a coffee table, or on a nice plant stand. An artificial plant by Pacific Silkscapes can give you the look you're going for without all the fuss.  Check out Pacific Silkscapes Pinterest pages for photos of more faux floor plants.
How fake plants are made?
We manufacture modern artificial plants and flowers using quality plastics and fabrics. These fabrics and plastics look and often feel real. You often have to touch them to know that they're fake. Even then, many plants with a rubber look can be extremely convincing.
Polyester – this has become one of the most popular fabrics for artificial flower petals. This is because it's so low-cost, durable, and can easily accept glues and dyes.  
Polythene (PE) – this is the most prevalent form of plastic in the world, used for a huge range of products. You're likely feet away (or less!) from polythene right now. We recycle products and reuse them. This is one of the most popular materials for flower stems. And also for leaf stems, berries, and fruits.
Metal – many artificial flowers and plants will use wire to shape the plant. This is either to provide structure or to allow a different position, as may be necessary for a flower arrangement. As you'd imagine, metal has no place seen in a plant or flower. However, this is instrumental in maintaining its structural integrity and form. 
Rubber – Rubber can be an excellent choice, especially when rubber responds well to UV-resistant treatment. It's light, durable, and easy to source, making it a popular choice for artificial plants today. 
How do you maintain silk floor plants?
Most plants are water and pest resistant due to the resilient coating applied to the leaves. The market uses a variety of materials for the manufacturing of faux plants. Some get include cheap plastic and hence they look really shabby. Some handcrafted plants use a premium quality silk material which makes them look incredibly lifelike. Instead of going for cheap plastic plants, we recommend you upgrade your budget a little. Go for the best-looking, fake plants and trees that look real which will make an impression. 

Pacific Silkscapes high-quality small artificial indoor plants and large fake plants capture all the beauty of nature. They do this without the hassle of daily maintenance associated with live plants. Shop our entire collection for the perfect silk plant for your home or office. We design and assemble our creations in Sacramento, CA. 
Where do I buy faux plants?
Pacific Silkscapes uses only the finest luxury silk floor plants. We handpick the best for the most realistic texture, color, construction, and value pricing.  We carry the best of the brand names including "soft touch" and "natural stem" product lines.  You can order a custom plant or visit our showroom in Rancho Cordova, CA.
Don't forget the planter!
Don't forget to purchase the ideal planter. Nothing beats a well-made handcrafted planter for enhancing the beauty of any room. Choosing the right planter will enhance your custom tree while also complementing your décor. Check out our BLOG post on why planters are important. Also, review some of the planters offered by Pacific Silkscapes.