Sacramento Artificial Green Walls
Green wall panels are realistic and Easy to install
Create a realistic and serene environment. Serving the Sacramento Region
Welcome to the newest trend in the world of artificial green walls. Boxwood living walls are becoming very popular. Green walls are a high-impact feature for a commercial project. Artificial green walls come in so many shapes, sizes, and colors. You should be able to find the right option for your space. Artificial boxwood walls have all the beauty and benefits of living walls. But, our artificial green walls don't need ongoing maintenance after installation.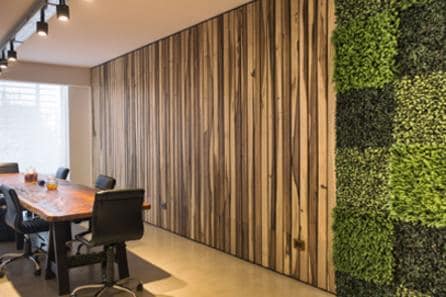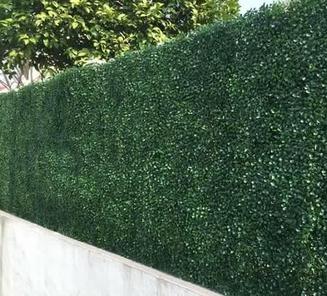 Artificial boxwood walls can be seen everywhere
Add living walls to offices, commercial buildings, restaurants, hospitality suites, and public spaces. Our outdoor artificial plant walls get manufactured with UV-resistant material. This is to maintain their vivid green. These walls will provide many years of protection and beauty.
Pacific Silkscapes outdoor artificial boxwood walls are perfect for covering unattractive equipment. Equipment such as air conditioners or walls that appear bland, boring, or unattractive. Boxwood walls will provide many years of protection and beauty. This product shows NO visible color loss after years of UV exposure. Live boxwood is slow-growing and requires constant maintenance. But our fake boxwood walls seem they've been growing for years.
Advantages of Artificial Green walls
Low-Cost Green Walls
When it comes to real green walls, there is a high upfront cost as well as continuous maintenance costs making them an unattractive proposition. The maintenance of real living walls can often involve downtime, another non-negotiable in most businesses. With artificial green walls, the upfront costs are significantly lower, there are zero maintenance costs and no maintenance downtime. Artificial living walls will save you money in the short term and will continue to save you money and time in the long term.
No Landscaping Contracts
Since real living walls require periodic maintenance, pruning, cleaning, and other maintenance, the company that installs them also provides maintenance programs at an additional cost. This is not the
case for artificial green walls. Artificial green walls require no heavy maintenance and can be easily cleaned in-house, so a landscaping partner to maintain them is not required. This means no hassle with customer service, no paperwork, and no downtime when maintenance is going on.
No Ongoing Maintenance
Unlike living walls, artificial green walls are maintenance-free. They never need to be watered, trimmed, or have dead or dying plants replaced. This helps make our synthetic plant walls cleaner and more affordable over time. The only maintenance an artificial green wall needs are the same as anything else in a business or home: a quick cleaning every once in a while. On the other hand, artificial green walls have no such special requirements.
Noise Control improved with Green Walls
Artificial green walls can help if your commercial space suffers from challenging acoustics. The hard surfaces in buildings create echoes, which in turn create distracting acoustics. This is a big problem for business spaces that can result in low productivity and morale, and even affect employees' emotional well-being. Plant leaves are known to reflect and absorb sound. The more greenery you have on the walls, the
more the sound will be muffled. Artificial green walls combine pleasing aesthetics with sound absorption, creating that calming environment that you desire.
For more information on the advantages of artificial green walls, refer to this BLOG.
For information on how to install most artificial green walls for the do-it-yourselfer, check this BLOG out.
Sample of artificial wall mats carried by Pacific Silkscapes: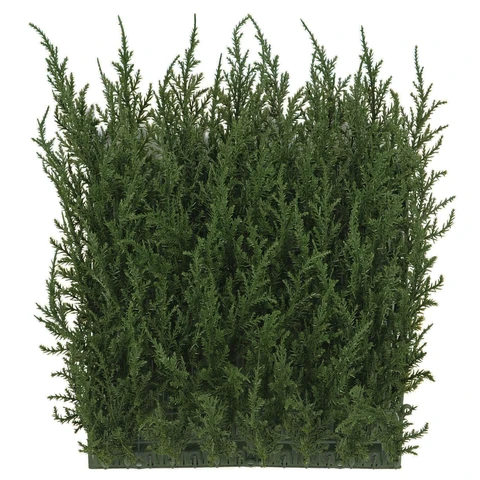 Green Wall Ideas From Pinterest:
ARTIFICIAL BOXWOOD AND PLANT BARRIER WALLS Built in Sacramento
Privacy hedges are perfect to cover unsightly views for customers or visitors while simultaneously making an area more private and secluded for those relaxing. With Covid-19 concerns, consider using these barriers in offices and hospitality suites. Improve your social distancing measures using planters. Check out this article from Jay Scotts.
These boxwood living walls and barrier walls are easy to install and Pacific Silkscapes can provide installation and delivery to Northern California and Reno, NV. We can also ship nationwide and install larger orders nationwide.
Are Green Walls Realistic and Lifelike?
The look of artificial greenery has evolved over the years. Modern artificial green walls are not plastic-like but feature incredibly
realistic foliage that mimics its real counterpart. In fact, some artificial greenery looks so realistic that you will be hard-pressed to
find the difference between real and faux. Artificial green walls are now crafted from premium quality material, with lifelike colors and
detailed foliage.
How do you install artificial green walls?
Pacific Silkscapes faux green walls do not need irrigation systems. They don't need the replacement of dying plants. There are no issues with watering and fertilizing.   Indoor Artificial Green Walls never get dead spots.  Think of the cost savings to your maintenance budget.  These walls are efficient and low-cost. 
Our mats come in different sizes but the typical sizes are 10″, 12″, 20″, and 40″ square. Installing wall mats is easy and get installed yourself using this DIY guide.  
We carry wall mats for both indoors and UV-resistant mats made for the outdoors.  Call Pacific Silkscapes today for details today. 
Can You Move a Fake Plant Wall?
Artificial plant walls obviously don't run into issues with living plants and can be easily unscrewed and moved to a new location. It's also straightforward to swap out panels to create a new look.
How do you Maintain an Artificial Green Wall?
If you buy a good quality product, your artificial green wall should be easy to maintain. Our green wall panels are UV-tested, meaning they won't fade in the sun, and all they require for maintenance is the occasional dusting and a wipe with a damp cloth to remove any dirt.  
Are Green Walls Durable?
Modern-day artificial greenery is built to last. These decorative accents are made from premium quality material, making them incredibly durable and long-lasting. Good quality faux green walls manufactured and installed by reputable companies can be used for either indoor or outdoor use. Our outdoor foliage is crafted to withstand changes in temperature, atmospheric pressure, and humidity. We create our outdoor
foliage by incorporating innovative technology which makes them inherently UV and fade-resistant – perfect for that outdoor space. So,
whether it is harsh sun, wind, water, or snow, you won't have to worry about color loss from these elements. No matter what the season,
artificial green walls will bring year-round color and interest to your space.