Social Distancing with Artificial Plants
Using Artificial Plants as Barriers to Create Safe Distances
Social distancing may be the new normal for a while, so why not make the best of it? Green dividers are much friendlier than other types of physical barriers. Plants and planters are being used more and more for social distancing. If you have a business that could benefit from boundaries, try social distancing with plants. A beautiful lateral planter with bamboo is so attractive.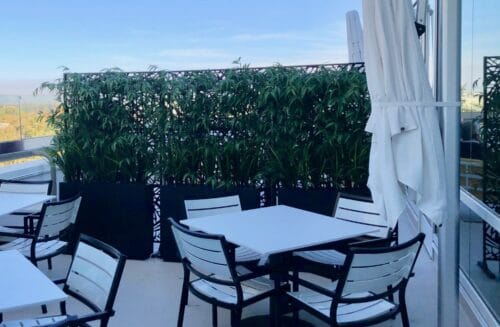 Using greenery provides more than a natural structure. Research shows that plants create a more relaxing and pleasant atmosphere. They can increase positive energy levels and feelings of enjoyment. One study even found that people associate beautifully landscaped areas with a higher quality of life.
If you have a workplace that will be opening up again after the coronavirus lockdown, keeping workers and clients or customers appropriately distanced is important. We are all aware of the need, but it isn't natural for us to stay six feet or more apart at all times.
Physical barriers come in handy as reminders and guidelines. Here are some ways to use plants as social distancing barriers in an office, store, or restaurant:
1- In a store, instead of a tape X on the floor, use potted plants. Mark out six feet between each one and people will know where to stand while waiting in line.
2- Use potted plants as walls that you can move as needed to separate groups or people.
3- In a restaurant, using lateral planters with tall foliage between tables not only marks appropriate spacing but also provides a little extra protection between groups.
4- Apartment balconies that are close together, for instance, can use a green screen for social distancing.
5- Another good use of plant groupings would be to help camouflage restricted areas or empty aisles.
6- In office buildings, rows of plants can provide unobtrusive barriers between desks, or serve as social distancing markers in common areas when placed six feet apart.
Creating social distancing spaces while using artificial plants from Pacific Silkscapes is easy. Call on nature for a calming, beautiful way to define any space. Let Pacific Silkscapes create that perfect silk plantscape.
For more information on green walls and social distancing solutions, check out our website page. Also, see other options on Pinterest.